Burnt River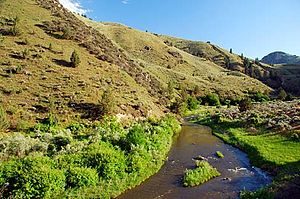 I was pleasantly bopping along to some of Phil Williams' recordings from the 1974 WA state contest in Buckley when this tune jumped out and said, "play me." So I did – and it was fun. Listening carefully I thought, "Why that sounds like Vivian Williams; I wonder where she found such a dynamic and interesting tune." Turns out it was her second ever composition, inspired by a trip out to Weiser, Idaho, crossing the namesake river I suspect. The Burnt River heads east out of the Malheur National Forest, one of the lovelier places on the planet, and empties into the Snake River.
While all three parts go together quite well I can imagine an eastern Canadian influence in the a part, a bit of Benny Thomasson in the b part and some old time Missouri square dance fiddling in the c part. In other words, it's kind of a Northwestern mix in character. See what you think.
We here in the WOTFA of course know Phil and Vivian Williams for their musicianship and dedication to the cause of old time fiddling. Seattle Metropolitan Magazine thinks they were pretty important too, and included them in a series on the 50 most influential musicians in Seattle's musical history (December 2008 – http://www.seattlemet.com/issues/archives/). The latest project from these two can be seen on the Voyager website (http://www.voyagerrecords.com/). Just click on the microphone in the upper right hand corner and you will have access to sample recordings from their immense collection of fiddle music recorded right here in the Northwest along with biographical information on the fiddlers. They are up to about 50 fiddlers and a hundred or so tunes at the moment.