I can't believe, as I write this, that it's almost been 2 weeks since we finished up Fiddle Camp.  Thank you to every person who spent the week with us.  You make July my favorite month, and this year was no different.  Each year gives us different challenges and this year was no different.  Even though we lost the caterer we had been talking with 3 weeks prior to camp and two of our instructors needed to cancel two days prior to the start of camp due to medical issues and sewage backed up in the new school locker rooms Monday morning . . . even with all that, I kept hearing the same things all week long; "I'm having a great time", "My classes are terrific!" "The dances were so much fun!" "I have been learning so much this week" "This is my favorite week of the year", and "Thank you" over and over.  All the stress goes away when you guys reassure us that you are having a great time so thank you for always stopping me in the halls to share.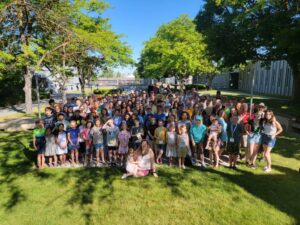 This year we had 171 students attending classes.  We had a total of 11 instructors teaching 20 classes with 83 youth and 88 adults.  Our Vendor Room was packed with all sorts of items this year and my mom thanks you all for going through all that music my grandma collected.  Thank you to District 8 for your extra district donation, to District 9 for the quilt raffle (that raised $267), and each and every individual who donated to the camp this year.  It takes a lot of resources to run camp and with your donations we are able to breath a little easier each year when putting together the final expense report.
I also want to take a moment to thank those that volunteered (or I volunteered them) for camp this week.  First and foremost our Camp team, Tyler Hagood, Katie Gotshall, & Kim Gordner.  We are adding to that team Rita Hubbard who has always been a great help but we are making it official that she HAS to help now.  Our set up, and check in crew; Mary Cooper, Janet Shelby, Kathleen Cullen, Barb Peterson, the Dudenhofers, and the Coppingers.  Our kitchen crew; Kim Gordner, Lori Haeseler, Mark Agnew, Lorelei Judd, JT Judd, and Kim.  Thank you also to Bill Fitzpatrick for watching the vendor room and also thanks to Hans for helping get all the chairs put back away at the end of camp.  We couldn't do it without you all!
Mark your calendars for next year July 15-19 (Second Full Week of July)
Corrine Agnew
For those interested in an Isaac report:  From Louise 7/26, "Doing a lot better than 2 weeks ago!  He's going to PT twice a week and has to wear a big turtle shell for another month.  Still gimpy, but getting around a lot better and feeling a lot better."