October is always a pretty big deal for WOTFA, and apparently I have more going on than I was prepared for too!  For everyone who was expecting to see this month's newsletter last week, I'm SO sorry it's late!  It's great that everything is ramping back up after 2 years of slow downs, but I guess I wasn't quite ready for everything to be back in full swing so quickly!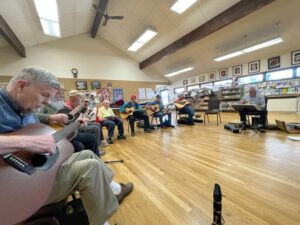 I heard a great suggestion at the Labor Day District 5 Campout that I think I should share with everyone.  We should have a "Tune of the Month" jam at Fiddle Camp next summer.  Kitty works tirelessly every month to put together such great research into these old time tunes – and so often we listen to them, think "I should learn that" and then … we don't.  I'm personally going to try to make it a habit to learn the tunes each month, so that we – across the state – have some fantastic tunes in common next summer!  Don't forget, you can look at, download, and listen to any tune of the month by looking in the "Tune Library" (In the Tunes Menu, look for Tune Library).  By default, the tunes are tiled in alphabetical order, and the last time I looked, there are 5 pages of tunes now!  You can also search for any tune in the library by simply typing a word of the title in the search window, and clicking the search button.  You'll get any tune (or post on our website) that contains that word!
October is District Election Month – so be sure to take note of where and when your district is meeting, so you can get involved!  Check out our event calendar (at https://wotfa.org/events/) for all sorts of meeting and playout information!  I've been trying to keep up with requests for changes and updates – and always feel free to submit your own event information if you are hosting or know of something that others might like to participate in!
October is also the official start of Membership Renewals!  2022 Membership ends on December 31.  Renew now, and you don't have to remember to do it later!  Your membership fees help offset district rental fees for storage units and meeting spaces, as well as helping pay for scholarships for our students, helping to fund Fiddle Camp, and other community events (and stuff like web hosting services too). You can renew your membership online, by logging into the WOTFA site, then clicking on Membership > My Account > Pay my dues (https://wotfa.org/membership/).  Membership fees remain $25 for the first member of your household, and $5 for each additional member.
I was so excited to see so many faces at my district meeting last month – and I can't wait to see everyone again, and to play some tunes!