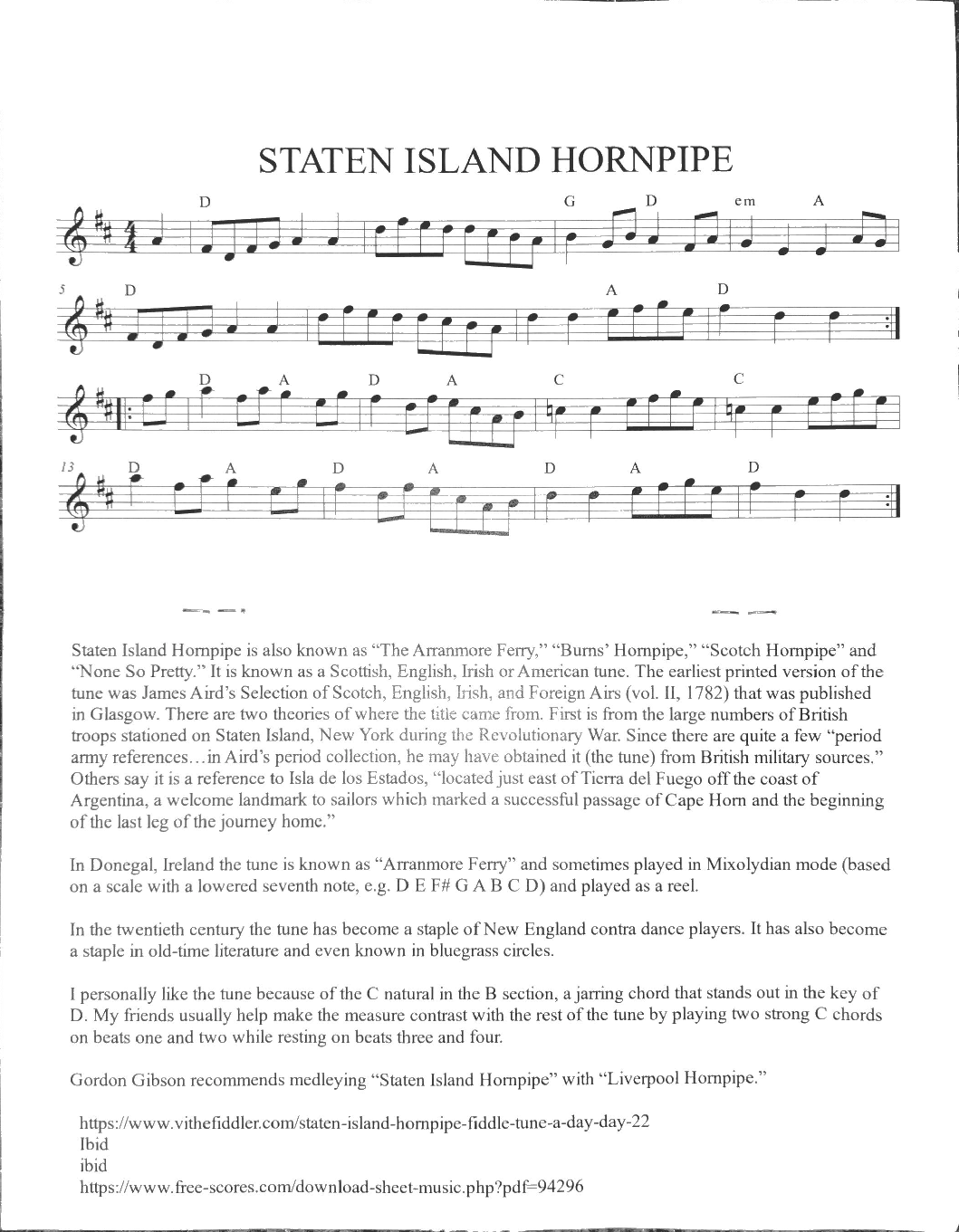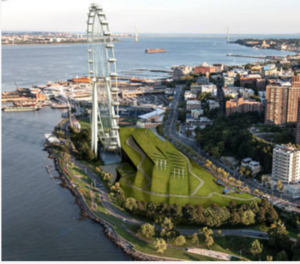 Staten Island Hornpipe is also known as "The Arranmore Ferry," "Burns' Hornpipe," "Scotch Hornpipe" and "None So Pretty." It is known as a Scottish, English, Irish or American tune. The earliest printed version of the tune was James Aird's Selection of Scotch, English, Irish, and Foreign Airs (vol. II, 1782) that was published in Glasgow. There are two theories of where the title came from. First is from the large numbers of British troops stationed on Staten Island, New York during the Revolutionary War. Since there are quite a few "period army references . . . in Aird's period collection, he may have obtained it (the tune) from British military sources." Others say it is a reference to Isla de los Estados, "located just east of Tierra del Fuego off the coast of Argentina, a welcome landmark to sailors which marked a successful passage of Cape Horn and the beginning of the last leg of the journey home."
In Donegal, Ireland the tune is known as "Arranmore Ferry" and sometimes played in Mixolydian mode (based on a scale with a lowered seventh note, e.g. D E F# GA B C D) and played as a reel.
In the twentieth century the tune has become a staple of New England contra dance players. It has also become a staple in old-time literature and even known in bluegrass circles.
I personally like the tune because of the C natural in the B section, a jarring chord that stands out in the key of D. My friends usually help make the measure contrast with the rest of the tune by playing two strong C chords on beats one and two while resting on beats three and four.
Gordon Gibson recommends medleying "Staten Island Hornpipe" with "Liverpool Hompipe."
https://www.vithefiddler.com/staten-island-hompipe-fiddle-tune-a-day-day-22
Ibid
ibid
https://www. free-scores.com/download-sheet-music.php?pdf=94296