Fiddle Camp is fast approaching and things are quickly coming together.
We have a few new instructors joining us this year and one you may recognize from years past.  We are also excited to bring back a Banjo class and add a Piano Backup class for the first time in the Workshop's history.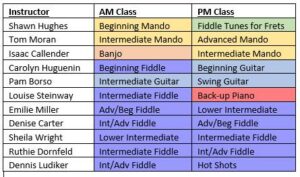 We are also excited to bring back our square dances for Monday & Tuesday evening with Amy as our caller.  Get your dancing feet ready!
Registration is scheduled to open on Monday April 3rd.  Tentative class list is below.  This may change as registration comes in and classes fill up.  Please remember to register as early as possible to ensure the classes you want will be available.  If a class size is too small, we may have to cancel that class.
Class descriptions are coming in and will be posted as we get them on the website at fiddlecamp.wotfa.org
We have negotiated prices with the Inn at Moses Lake & the Ramada.  When calling to make your reservations, please be sure to mention Washington Old Time Fiddlers to receive that discount.
Dry camping is still available at the school and the school's gym should be available for us to use the showers.  YAY!
If you have any questions, please feel free to reach out to us.
See you soon!
Corrine Agnew
Workshop Co-Chair
253-720-7703