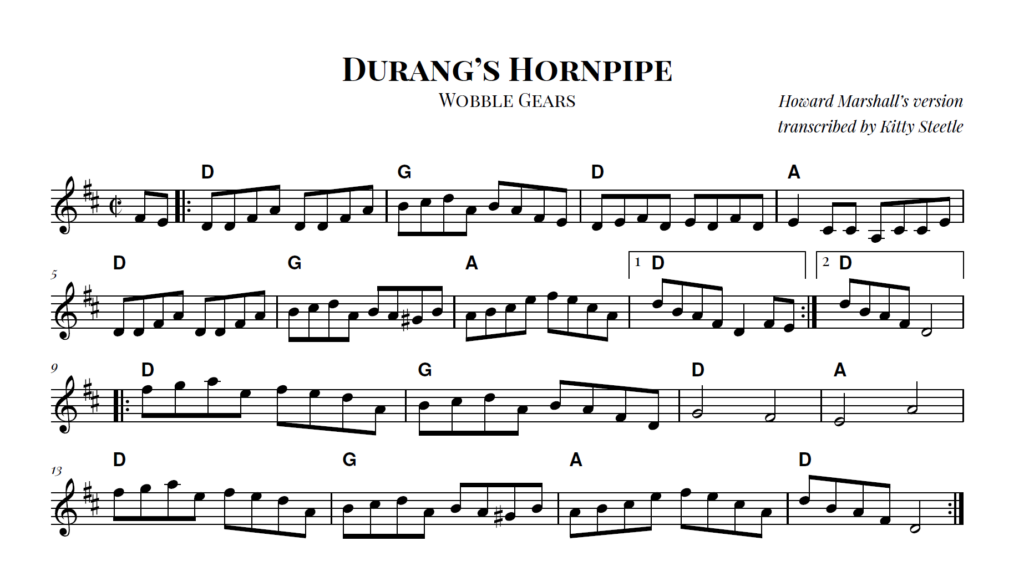 The tune, Durang's Hornpipe, is believed to be composed in 1785 by Mr Hoffmaster and his wife, both little people, and named for their fiddle student and actor/dancer, John Durang (Lancaster, PA 1768 — Philadelphia, PA 1821). John Durang then went on to be known as `the first American dancer' and popularized the `nautical-style' hornpipe dance, The Sailor's Hornpipe.((https://tunearch.org/wiki/Annotation:Durang%27s_Hornpipe_(1) This sailor's hornpipe dance is for a single dancer or group of single dancers as opposed to the hornpipe set dance for multiple couples.))
By the early 1800s the tune is found in American music commonplace books((Commonplace books are an `individual's compilation of memorabilia (proverbs, poems, recipes, or on occasion pieces of music) recorded by hand in blank books'. (Goertzen, American Antebellum Fiddling, p 1) )) including Thomas W Shannon, thought to be a teacher of Arthur McArthur Sr (Scotland, 1790 — ME, 1874).((Goertzen, op. cit., p 4.)) It also appears in commonplace books of Ebenezer Bevens (Middletown, CT, 1825), Gurden Trumbull (Stonington, CT, 1801), Josiah Adams (Framingham, MA, 1808), and Seth Johnson (Woburn, MA, 1807).((tunearch, loc. cit.)) Durang's Hornpipe is a popular standard tune in Old Time Jams and Irish Sessions throughout North America.
Sailor's Hornpipe Dance example:

—Kitty Steetle
Josh adds: there are many versions of this tune. Since this isn't one I play a lot, the Tune of the Month
recording is most likely a blend of the last few versions I'd listened to.