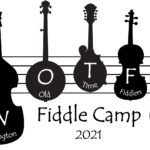 Fiddle Camp 2021 Registration is Open!
Online registration for the 2021 Fiddle Camp (July 12-16) is now open!  We are doing things a little differently this year since there are still some uncertainties around Covid-19 and the State's Regulations.  First and foremost, payment for registration is being delayed.  We are asking that if you plan to attend Fiddle Camp this year, please register ASAP.  This will help us know if we will have enough participants to make a go this year or if we need to give one more year for things to get better.  We are planning to make another big decision on if we go forward the first week of May.  If things are looking good we will send out a request for payment on May 15th, to all who registered to be paid in full by June 1st or you will forfeit your spot.
If registration is low, we may be forced to cancel so PLEASE register early if you plan to come.
A few other changes that will be taking place this year due to current State Regulations and location construction:
Class sizes will be limited to allow for social distancing
Personal hygiene will be required to be maintained.  With athletic gyms not allowing showers at this time, we will have access to the fairgrounds showers again.
There will be no dances this year.  We still plan to have evening entertainment/fun and jamming is encouraged.
Masks will be required inside the school and where social distancing is difficult to maintain.
The new school gym is under construction, the soccer field is no longer there and we ask that you not allow your children to play around the new gym.  Tent camping remains available on the long grass strip near the basket ball court behind the school.
No snacks or food distribution will be available.
Over the past year, the Moses Lake Public Schools have been building a new school in the area behind the athletic gym.  Because of this, they have had to expand the road and add sidewalks.  Those that have parked under the trees on the east side of the road are no longer able to and there is also no room to park along the street.  ALL participants must be camped and/or parked on the school premises.  We will do our best to get everyone squeezed in there but if you are able, it may be best to get a spot at the Grant County Fairgrounds.  https://www.gcfairgrounds.com/p/rentals/camping  Fairground sites are large, comfortable and shaded.  Their fees are $20-$35 per day, depending on if you are dry camping or want hook-ups.
Please check out the workshop website for class descriptions and other important information.  https://fiddlecamp.wotfa.org/
Registration will be through the WOTFA.org site and you must have a current membership to have access to registration.  Once you have logged into https://wotfa.org, look for the red registration box in the top right corner of the main web page.
https://wotfa.org/fiddlecamp_registration/
If you have any questions, please don't hesitate to send us an email at workshop@wotfa.org
Corrine & Tyler