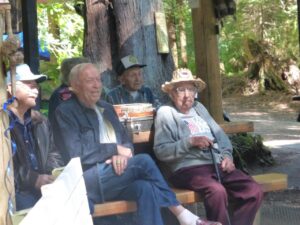 Hello Fiddlers, we start our October report with sad news to share.  George Park, our dear friend and long time very devoted Fiddler Player in September passed on.
Susan Gwost, George's Daughter shares" Hi Fred…just letting u know that dad passed away peacefully last Thursday…he had complications after a nasty fall." George was a special fellow to us all. A long time member going way back to the beginning of Dist 4 I believe, George loved singing and playing his Fiddle and made most all the play outs and Jams even living on Guemes Island, which required George and his Daughter Suzie to ferry over to all those playouts and Jams! George will be sadly missed.
One of our faithful audience shares: "Thanks for letting me know that George Park passed away. I always enjoyed listening to him sing Danny Boy. Also he was a great violinist. George was one of my favorites and I will miss him. Thanks again, Jo Ann"
George was a lot of fun and like to joke with you and had that little smile and at the same time a stoic look, and I think he knew and enjoyed leaving you wondering a bit. Seemed he love to feed the birds too, especially Humming Birds. I did not know George well, but he tickled me, and I always enjoyed playing music with him. He was a great model for us all in never giving up!
As well, George was our Reporter for a very long time. George had a way with words and I always enjoyed reading the monthly news report George submitted – George made them an interesting read! Our hearts and prayers go out to Sue and the family. May God's peace be with you all.
Memorial for George Park will be held on Saturday, October 16th at 2:30 at the Bayview Civic Center.
Here's the address: Bayview Civic Center. 12615 C St, Mt Vernon, WA
It's actually near Padilla Bay State Park and not in Mt. Vernon (We just use that zip code for our mail).
PLAY OUT DATES AND JAMS FOR October 2021:
1st. Thursday play out at Sedro Woolley Senior Center @ 11:30 am – 12:30 pm
2nd and 4th. Fridays Jam at Mt. Vernon Senior Center @ 6:30 pm – 9 pm
Our last business meeting went well and we have a new Co Chair Frank Campos voted in on Sept 10th to assist me. We have been able to have a few play outs at Senior Centers. Everyone has remarked how good it has been to be able to play music together again. We had a fantastic WOTFA Pot Luck picnic and were very grateful to Danny and Lorene Vandenberg for sharing their home picnic park with us all on Aug 28th. Everyone enjoyed the good food, music and fellowship.
In September we did Jam at the Mount Vernon Senior Center and a play out at Sedro Woolley Senior Center. All said it's more like normal to be able to share our music and fellowship like we used to. We look forward to many good times to come! : )
Prayers to those who are sick and many Blessings to all.
On behalf of the Fiddlers,
Interim Chair, Fred Robbins
DISTRICT 4: Skagit, Whatcom, Island and San Juan Counties
INTERIM CHAIR and INTERIM REPORTER; FOR UPDATES AND CALENDAR INFORMATION
Fred Robbins 206-786-3369, email: fred@robbinsmetal.com
Co Chair Frank Campos 360-320-1696