I received an email today from the District 4 Chairman with some sad news.  Most everyone that has been around the Old Time Fiddlers for awhile will remember Chuck Page.  Chuck served as the District 4 Chairman for many years and will be greatly missed.
From the Fred Robbins: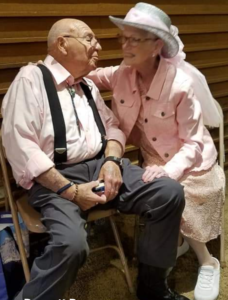 Dear Fiddlers,
The Page Family is sad to share the news that their beloved Father, Chuck, has passed away; approximately 11:30 AM Sunday the 29th. of Nov. The memorial day and time are undetermined;  and if organized it will be after the covid crisis.
We wish the Family Peace and our Condolences of Behalf of all our OTF Members; Chuck was a dedicated person in all ways, and in District 4 OTF as Member and President Chair he was true to that nature; as well as his dear Family; he will be dearly missed by many, many people. Chuck and his immediate Family are Bellingham Residents.
Respectably,
Fred and Yvonne Robbins
Feel free to leave a memory or a message at the Bellingham Herald page, here.