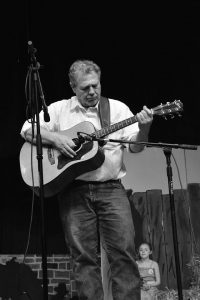 As May 2019 descends upon us, I find my self reflecting on the past year in the Washington Old Time Fiddlers and my place in this world of musical history.  I am so humbled to be a part of this organization and what it represents.  Although, I am not a fiddle player and my knowledge of music in general is limited, I do have a passion for this organization and the members that make it work.  My passion, I suppose, comes from the memories I have of the family gatherings when I was younger.  My father played harmonica, my uncles played guitar or fiddle, and several of the siblings, cousins, and aunts and uncles sang or played other instruments.  I remember the electricity and the excitement surrounding these events, whenever one of them struck up a note.  My interest in old time music really didn't spark until I was almost 50 years old. I am now only starting my journey into this fascinating world, 2019 will mark my 15th year as a member of WOTFA.  Many of the friends that I have meant along this journey, have been with this organization since the beginning.  Many have been musicians for 50 or more years.  I can not help but admire their sustained interest in the music and the community that surrounds it.
My reflections on the organization and the people behind it made me realize that the history of WOTFA and the members that made it happen, are in danger of being lost.  There is no recorded information regarding the 50 plus years, and the people that built this organization from the ground up.  Don't get me wrong, there is a multitude of books, recordings and other forms of documentation on Old Time Fiddling and the people surrounding this culture as a whole.  Phil and Vivian Williams, Stuart Williams, and a host of others have done a wonderful job of documenting Northwest Old Time Fiddlers and fiddling in the Northwest as a whole.  But, I have not found anything that is specific to the Washington Old Time Fiddlers Association.
Beginning in June of 2019, this website will begin a series that will be dedicated to the history of the Washington Old Time Fiddlers Association and it's membership.  The series will focus on the people that made and served this organization.  Starting with a step back in time, we will examine and document the founding members of WOTFA, and the role they played in the beginning.  I hope to include photos and recordings in these articles.  I hope that you will join me in this journey through WOTFA time.  If you have been a member of this organization for any length of time, and have materials that I can use in this series, I ask that you share these with me.  If you are interested in contributing to this legacy, please send me an email or give me a call.  I would love to hear from you.
Bill Crabtree
President, WOTFA