| | |
| --- | --- |
| | Preserving an American Tradition |
WASHINGTON
EVERGREEN FIDDLER
NEWSLETTER OF THE
WASHINGTON OLD TIME FIDDLERS
ASSOCIATION
| District | Counties | Chairman |
| --- | --- | --- |
| 2 | Ferry,Lincoln,Pend O'Reille, Spokane & Stevens | Kyle Peterson |
| 3 | Chelan, Douglas & Okanogan Counties | Gerry Gengler |
| 4 | Skagit, Whatcom, Island & San Juan | Fred Robbins |
| 5 | Mason, Kitsap, Pacific & Grays Harbor | Kay McCarthy |
| 6 | King | Roy Calvert |
| 8 | Pierce | Barbara Peterson |
| 9 | Thurston & Lewis | Christie Easter |
| 10 | Clark, Cowlitz, Skamania & Wakiukum | Kathryn Bode |
| 11 | Grant & Adams | Charlie Root |
| 12 | Benton, Franklin & Walla Walla | Joe Gunter |
| 15 | Jefferson & Clallam | Scott Holman |
| 16 | Snohomish | Noel Lareau |
Announcements
WOTFA is now offering online lessons for the Tune of the Month. On the First Monday of each month, WOTFA will host an online learning session featuring the Tune of the Month. To register go to https://lms.wotfa.org. You will need to register on the website if you have not already done so. Follow the links for the Online learning from WOTFA.
From the Editor
The Evergreen Fiddler is going digital!
Starting January 1, 2021, we will be discontinuing the printed newsletter and sending it to your email instead.
This decision was not an easy one to make. With declining membership, increasing costs and a growing cry from the membership, the Board has decided to move the newsletter to an all digital format. There will be a transitional period between now and the end of the year. You will continue to receive the newsletter in your mail, and you will also receive one in your email.
If you do not have access to email, or you don't do computers, and you need a paper copy mailed to you, please send a letter or email to:
Bonni Wuennecke
3024 W 7th Ave
Kennewick, WA 99336
Please take the time to check out the new format. The new format promises to provide more content for what our members are requesting. You will still have the Tune of the Month with additional features. The events for the month will be listed in each newsletter and you can browse the website for more content than we could ever put in the newsletter.
Thank you for your understanding and patience as we go through this transition.
All district meetings and jam sessions are cancelled until further notice
District 1
DISTRICT 1: Asotin, Columbia, Garfield & Whitman Counties Contact: Betty Lehrman (509)758-3602 email: blehrman@clarkston.com No longer an active WOTFA District [...]Read More
District 2
DISTRICT 2: Ferry, Lincoln, Pend O'Reille, Spokane & Stevens Counties; CHAIR: Kyle Peterson- email:wotfa.kyle@gmail.com [...]Read More
District 3
We are saddened to report that one of the original members of our District has passed away. Doris Soden passed away in early October. She followed her husband, Elgie, who…
District 4
DISTRICT 4: Skagit, Whatcom, Island and San Juan Counties ACTING CHAIR: Fred Robbins [...]Read More
District 5
DISTRICT 5: Kitsap, Mason, Grays Harbor & Pacific Counties ~ CHAIR: Kay McCarthy- (360) 895-0628 email: mkmccarthy11@gmail.com REPORTER: Laura Farr, Shelton (360) 427-1703- email: wlzfarr@msn.com Mason County Coordinators: Will and…
District 6
King County CHAIR: Roy Calvert (425) 228-5846; email: r-calvert@msn.com REPORTER: Simon Knaphus (415) 240-1939 Dist. 6 Monthly Meeting: Postponed for now Circle Jam: Postponed for now [...]Read More
District 7
DISTRICT 7: Yakima, Kittitas, & Klickitat Counties; No longer an active WOTFA District [...]Read More
10/04/2020
District 8
Things here are still pretty much shut down, so we are cancelling our October monthly meeting. A few of our members have played outside in a Puyallup park a couple…
11/07/2020
District 9
Hi Everyone: For November we are still in a holding pattern as far as jams and playdates are concerned. Although small gatherings are permitted currently because Lewis County is in…
District 10
Clark, Cowlitz, Skamania and Wakiukum Counties CHAIR:Kathryn Bode – email: chefkat56@gmail.com Monthly Meeting: Postponed for now [...]Read More
District 11
Grant and Adams Counties CHAIR: Charlie Root, 23 Road M NE Moses Lake, WA 98837 (509) 765-5927 email: clroot@sosmail.us Monthly Meetiing: Postponed for now [...]Read More
District 12
Benton, Franklin and Walla Walla Counties; CHAIR: Joe Gunter (509) 948-1772 REPORTER: Chuck Hedel, email: cwhedel@gmail.com Monthly Meeting: Postponed for now Monthly Jam and Show: Postponed for now [...]Read More
11/07/2020
District 15
Jefferson and Clallam Counties CHAIR: Scott Holmen, (360)-620-9221, scottpholmen@gmail.com PLAYDATE COORDINATOR: Don Betts (360) 681-5218 emaiL:not2old2fiddle@gmail.com. SPECIAL PLAYDATES COORDINATOR: Pete Crose (360) 5821249 email:pgcrose@msn.com WEB SITE: www.d15.wotfa.org Monthly Meetings: Postponed…
District 16
DISTRICT 16: Snohomish County; CHAIR: Noel Lareau (360) 691-5907 – e-mail: Noelula@aol.com REPORTER: Noel Lareau Business meeting Postponed for now D 16 jams 2nd and 4th Fridays at Sisco Heights…
Membership Application and Renewal Form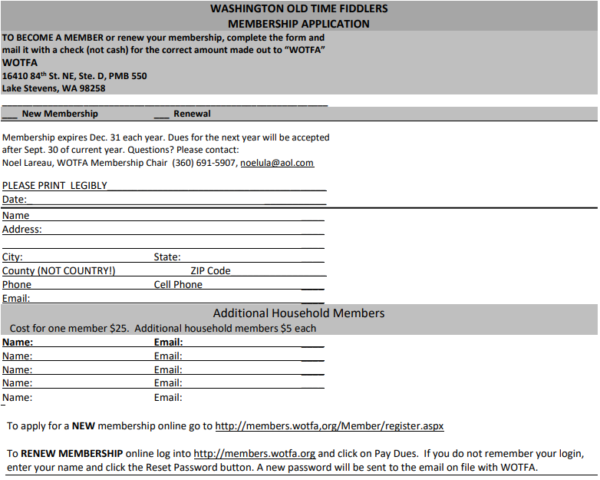 Click here to get a printable application form
Evergreen Fiddler Tune Books
WOTFA Publications presents The Evergreen Fiddler Tune Books. Three separate books containing sheet music, mp3 files, and short stories of selected Tune of the Month from the Evergreen Fiddler newsletter.